Always Believe in Gold! …en Week
Thank you for coming. It's only two years ago that I experienced my last 'normal' Golden Week (GW), and it looks like this year is no exception due to various complications: A pandemic, an accident resulting in a broken hip and limited mobility, that type of thing. I'm sure we all can empathise with at least one of those, my dear readers.
Today is the day that GW finally begins. And what a cracking start. It's a bit chilly, it's raining and the wind is howling. Well, I'm not going anywhere anyway, so that works out perfectly for me. It's great writing weather and today I have my writing hat firmly on, 80's pop music coming through the speakers and a lovely cup of tea at my side. But what is 'Golden Week?' I hear you non-Japan residents ask yourselves as you sit there, sipping your – what I hope is a – cup of tea. Let's start there, shall we?
GW is a period (not always strictly a 'week') where a number of national holidays fall in a row along with the weekend creating a blissful week of no work for those lucky enough not to work in retail or certain educational institutions. Technically there is usually a day of work that falls somewhere in that week, but many of the nicer companies will remain closed and allow their staff a cheeky day off. My company, unfortunately, expects people to work on that day for some reason, but I'll be taking the day off anyway with personal leave, so whoopee! My GW has officially begun!
GW consists of four holidays: Showa Day (April 29th), Constitution Day (May 3rd), Greenery Day (May 4th) and Children's Day (May 5th). Oh, and how could I forget my birthday (May 2nd), which for some reason is not officially recognised in Japan. Odd.
I've always been under the impression that Japanese people work ridiculously long hours and never take any time off. While that may be true for many, it is an idea that I don't hold quite so strongly today. It is still true that in may companies it can be difficult to take extended leave, and that is something that I hope will one day change. But despite that, Japan does have a crazy number of national holidays, which when you count them out, is actually quite shocking. This year there is a grand total of 17 national holidays. Compare this to the pitiful 8 that are being dished out in the UK this year, and I am sure my friends and family back home will look to the far east with a pang of envy. I hope you find a little more time to relax! As I write this and do a little bit of research, it seems like the difference in statutory leave between the two countries is minimal, so I suppose we're even. Learning something new every day.
With the difference between Japanese and UK paid leave being that in the UK you have more control over when you take it, in Japan the majority of the days are predetermined as national holidays. This creates a bit of an issue that is evident during GW. As a small bulk of the holidays fall in close succession, you will see a lot of Japanese people rushing to wherever the popular spot is in or around their area at the same time. This will often cause frustrating mass crowds, silly traffic jams as people try to get from somewhere to nowhere, packed hotels, exorbitant air fares and selfie sticks galore (wait, come to think of it I haven't seen a selfie stick in AGES. Are they still a thing or have they just gone dormant due to COVID, waiting for their chance to strike back?)
While it may be tempting to get away for the only chance in the year where it is possible, I have got used to just staying at home and using it as a chance to cool down and relax. I'm fairly contented where I am and am fine with just staying in and catching up on life, instead of spending all of money on transient pleasures and Facebook photo opportunities. So what is in store for this year's GW?
This year I'll be doing what I did last year, for the most part, and that's staying at home. Oh, I think I already said that. Additionally, as I have treated myself to an additional two whole days off on the tail end of GW (giving myself a whopping 11 days off!), I want to focus a lot of my time on my hobbies and some of the projects that I am working on, away from the daily distractions of work.
Reading
Continuing on from last year, I decided to try and read at least one book a month. We're in April now and I'm on my 7th and 8th book (I'm two-timing), so I am a little ahead of myself there, but I'll be picking up a new book in the coming days after I finish what I'm reading now. I recently remembered that at the house of an old friend mine, they used to have a little shelf next to their toilet that housed a number of non-fiction books which I always loved to have a rummage through when I was younger. It slightly lengthened my time sat on the loo, but it was for educational purposes, which is entirely acceptable.
Remembering that, I thought it'd be a good idea to try it myself. How to Win Friends and Influence People was the lucky winner of the competition of 'First Book on the Toilet Shelf'. It's been there for a few weeks now and it seems to be going well. My phone has been replaced as the main distraction during my lavatorial visitations and I would recommend it to everyone. I treated myself to a few new books to take up the mantle once I'm done with this book, and I'm thinking of installing some proper shelves in the lavatory to accommodate them as the numbers grow.
Writing
How could I take 11 days off and NOT write anything? I haven't been able to stay anywhere near my goal of 1,000 words a day, but I've quickly learnt not to beat myself up over it. There's so much I want to do and I can't let it completely dominate my days. In the future, I wouldn't mind getting away a bit to try my hand at a little writing vacation, but for the time being, I will be doing it here in the comfort of my home. I've also set up a new page on this website, which if I can find the time and the courage, I will activate over GW. This will have some of my fiction writing that I'd like to share with people who are interested in having a read.
It won't be all fiction, though. There are a number of blog posts I would like to write as well, but many of those involve me going somewhere before writing about it! This won't be possible for a little bit, but I'll be doing some preliminary research and drafting up some posts ready to go when the timing is right.
Television
I'm not a big telly watcher any more, but there are a few shows on right now that I am glued to. Most notably that would be Line of Duty, the last episode of which is airing next week and I cannot wait! It seems to have a lot of people back home hooked, and I'm glad that even though I am thousands of miles away, it is something that I can share alongside fellow Britons.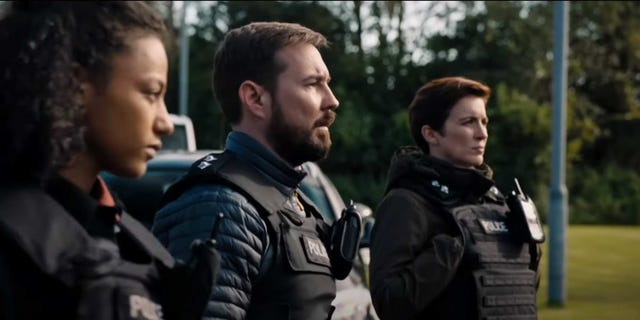 I've also recently started watching Life in Colour on Netflix. A wonderful nature documentary with our much-loved Sir David Attenborough. On a side note, I just recently finished listening to his book A Life on Our Planet, which I cannot recommend anyone enough to either read or listen to. I think I'll write about this in more detail in future posts, but having been a big fan of his for a long time, he has educated myself and many on the major issues that our planet, and therefore we, face, and how we can collectively prevent what's to come. I've made a few changes to my lifestyle with more planned, which I hope to share with you in the near future.
Podcasting
Now might be the time for me to have a proper crack at putting my podcast together, but for some reason I just cannot get it off the ground. Maybe it's a confidence issue. Maybe it's because I just don't have much to say? Or maybe it's because I hate hearing my own voice? Probably all of the above. However, I will be listening to a number of podcasts (Adam Buxton remains at the top of the list) to steal a few ideas and get a few tips. An old friend of mine who recently left Japan and moved back to the US started his own this year about his adventures in Japan, which I'd like to recommend. The topic is very similar to a blog post that I was going to upload next, but as I got into it and realised I was 3,000 words in, I knew that it was turning into something a bit bigger so I've decided to work on that separately and see where that goes. However, please check out his podcast below.
Video Games
Last but not at all least, the video game. Having just completed DOOM (2016), I'm ready to get onto the next games on my list, namely MOTHER and Shovel Knight. I don't really have anything else to add to that, but I thought I'd throw that in there for good measure.
And that's it for now. To all of my friends in Japan I wish you all a happy Golden Week. Have fun, but be safe and remember that COVID-19 is still knocking about. Work is glad that you're bound to return, but until then, enjoy! For those in the UK, enjoy the coming long weekend. And to everyone everywhere else, I don't know if you have any national holidays this coming weekend or not, but enjoy it anyway!